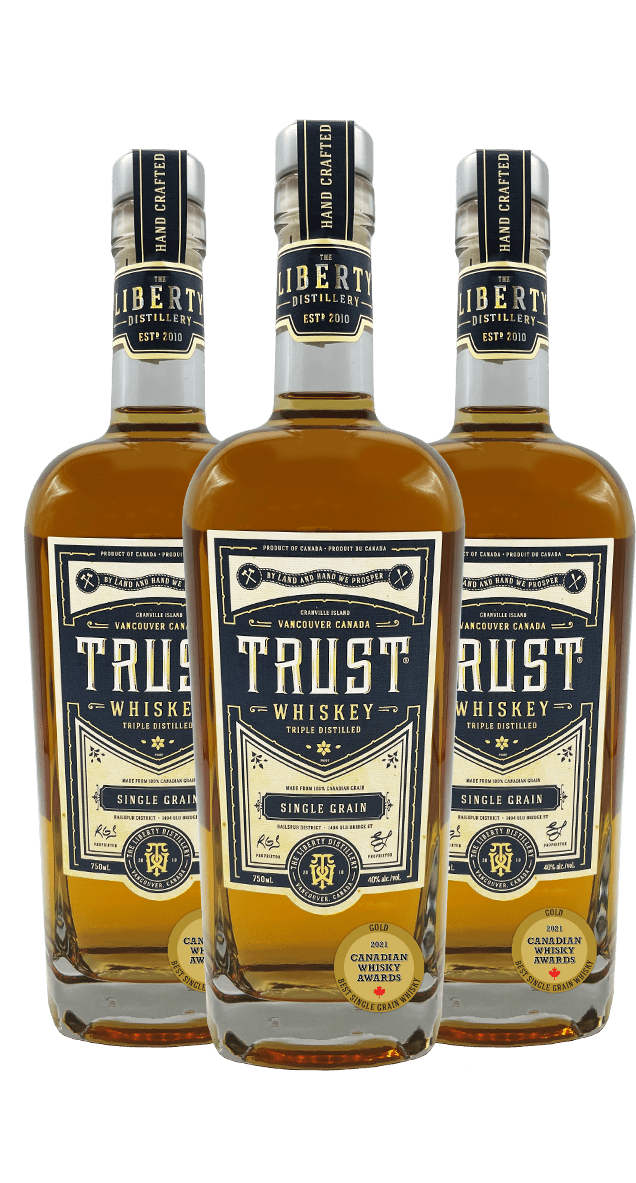 Awards
BEST SINGLE GRAIN: Canadian Whisky Awards 2021
GOLD: Canadian Whisky Awards 2021
GOLD: Canadian Artisan Spirit Competition 2018
SILVER w/ DISTINCTION: Canadian Artisan Spirit Competition 2020
SILVER: Canadian Artisan Spirit Competition 2019
BRONZE: San Francisco World Spirits Competition 2020
Description
TRUST Whiskey begins with 100% organic hull-less unmalted barley grown in Armstrong, British Columbia. It is triple-distilled in our hand-made CARL single copper pot still. For (3) years, it has been quietly maturing in once-used 220-litre Bourbon barrels to slowly gain character, complexity and colour.
Distiller's Tasting Notes off the Barrel (81% alc./vol.):
Aromas of butterscotch, cacao bean and caramel punctuate the nose. The finish has a soft, yet dignified white chocolate character.
In The Bottle:
On the nose, TRUST offers complex and layered aromas of gentle spice and caramel. The palate is well-rounded and full with sweet spice, warm malt, and a touch of wood. Hints of almond and walnut intermingle, while barley grain notes showcase the bouquet with a very pleasant, mouth-filling body. The finish is super smooth with a lingering fade of vanilla and honey.
Spirit Specifications:
Spirit Type: Whiskey
Ingredient: 100% Organic BC Barley (Armstrong Region)
Age: (3) years
Alcohol: 40% alc./vol.
Color: Amber
Bottle Size: 750ml
Price Point: $55.91
SKU: 594788