LISA SIMPSON, MBA
Proprieter, Director of Operations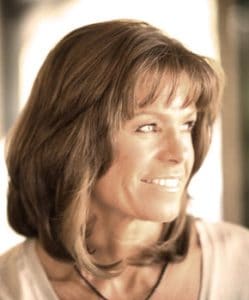 Mixology is synonymous with Lisa's zany mixed up personality. She is a former culinary/pastry chef turned corporate finance guru… turned business coach/management consultant.
Playing, creating and having FUN are all musts for Lisa and with curiosity as a driving value, she decided it was time to pursue her appetite for adventure. What better way to do this than join forces with her husband Robert to become a "spirit-preneur" and future Master Distiller.
After co-founding The Liberty Distillery, Lisa pursued a year of zymology study: reading, researching, visiting distilleries across the USA, and attending courses and workshops offered through the American Distilling Institute, Michigan State University, and the Seibel Institute.
When not acting as Director of Operations or reworking the financials, you will find her climbing up ladders and working on the floor side-by-side with Liberty's Master Distiller.
ROBERT SIMPSON
Proprietor (Chief Taster)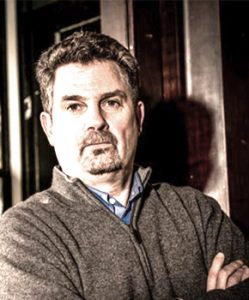 Eighth-generation Canadian Robert Simpson is a serial entrepreneur, visionary, lover of oenology and zymology. The writer and wine and spirits aficionado was born and raised in Vancouver with family roots originating in Scotland, so it comes as no surprise that Robert discovered at a very early age he had a love and passion for wine and spirits.
A photographic and discerning tasting palate has made Robert a much sought-after tasting expert and evaluator. He has been a Presenter at the Annual Aspen Food and Wine Classic for more than 20 consecutive years, consults for cellar owners, assembles wine lists for award-winning restaurants and is a member of several domestic and international tasting & judging panels.
After assessing and tasting professionally for more than 35 years, Robert determined in 2008 it was time to turn his dream into reality. Concepts and ideas began to distill in his mind and in 2010, together with his wife Lisa, The Liberty Distillery was established… and so their spirit journey began!
RAYMOND PRIOR, B. Oen
Head Distiller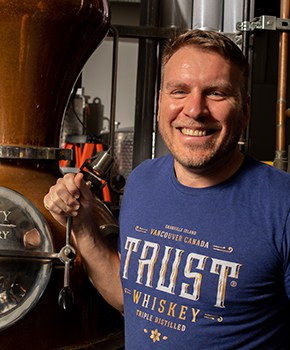 Ray's passion for wine and spirits started in 2003 while completing his Biochemistry Diploma at the University of British Columbia. He concluded shortly after graduation his love for fine wine, food, and travel was better 'paired' with the study of oenology than other forms of cell structure. Ray departed Canada soon after to pursue his Bachelor of Oenology at the University of Adelaide and was involved in all aspects of winemaking thereafter working for several prestigious wine houses in Australia, South Africa, France, Germany, Chile, and Canada. His love for travel, soccer, baseball, tennis and golf; along with speaking German, French, and Spanish have served him well during his pursuits living abroad.
In 2013, he turned his knowledge in a slightly different direction when he became interested in the art of distillation and turned his attention to the fine art of spirits. An exceptional team member, Ray volunteered his time continuously in the early days and helped to assemble Liberty's stills. It was not long thereafter that Ray affectionately became known as the 'Happy Hugging Distiller of Granville Island.'
ANDREW (ANDY) SMITH
Bar and Spirit Sales Manager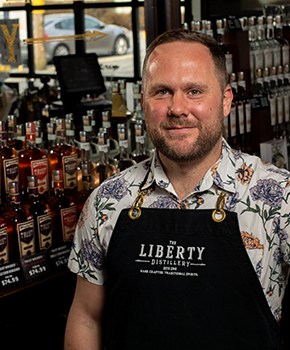 Stepping through Liberty's front door, you most likely will be warmly greeted by Andy our resident Scottish international spirit enthusiast.  Andy originally hails from Edinburgh, Scotland where he began his hospitality career working for renowned Montpellier – recognized for their superior hospitality training and award-winning nightclub and bar.   Assuming various roles abroad and internationally, he honed his knowledge, passion, and flare for hospitality and cocktails, serving and managing within a range of fine dining establishments, restaurants, and clubs in Scotland, Australia, the United Kingdom and Canada.
Andy has a wonderful sense of humor, quick smile, and keen ear for listening.  His extensive knowledge of classic cocktails and enthusiastic passion for cocktail development has resulted in invitations to compete in a variety of 'invite-only' cocktail competitions; including Grey Goose and Bombay Signature.  Joining Liberty in 2022, Andy takes an active role training new members to the Liberty team and demonstrating the art of 'cocktail making'.
Andy enjoys training for marathons and kicking his heels up whenever he is not found with a cocktail shaker in hand, or working on new operational initiatives.