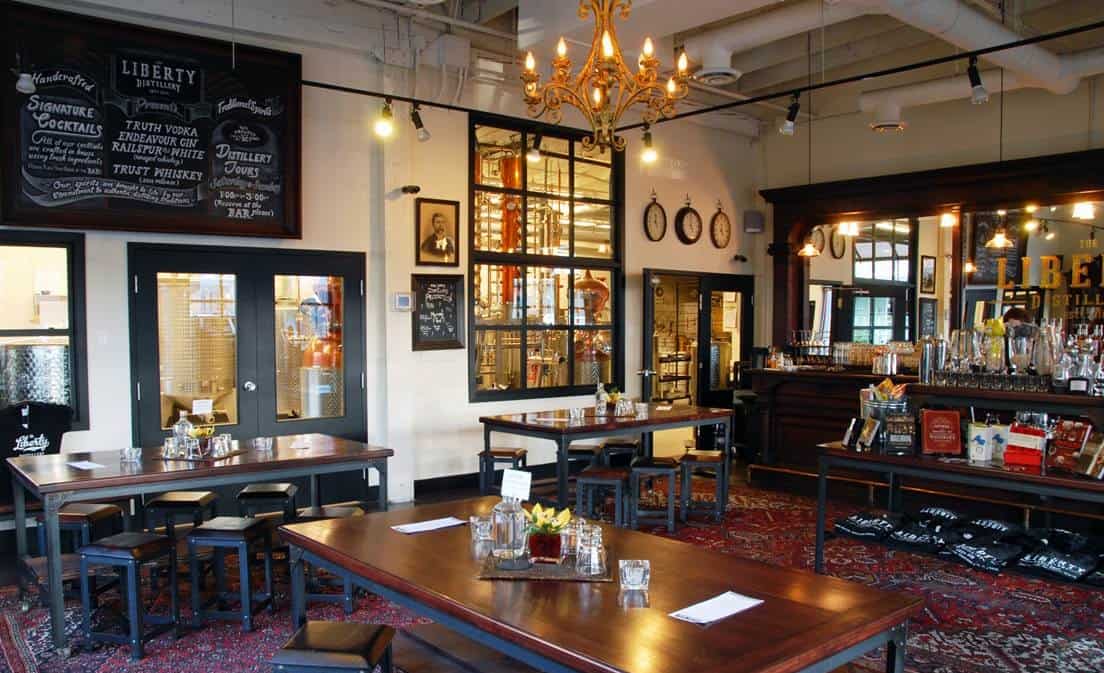 Join us for a Signature Cocktail in our Full Service Lounge.
Our enthusiastic and knowledgeable team invites you to step back in time at our 110 year old antique bar to sip one of Liberty's classic or Signature Cocktails.
Our uniquely crafted drinks range from the familiar to the astounding, but always show the beauty of our artisanal spirits. Our cocktails have been carefully crafted using only the finest ingredients.
Happy Hour
Cocktail service begins at 11:00am seven days a week
Ages 19 and over. Valid ID is required. Minors are welcome if accompanied by an adult.
Happy Hour is Monday-Thursday from 3pm-6pm. Our authentic steam whistle sounds to let you know happy hour has begun!
Late Night Happy Hour is Nightly, Seven Nights a Week (seasonal) from 8pm to Close. Whether you're looking for the perfect nightcap, or just the beginning to a great story, this is the Happy Hour for you.
Brunch Hour is Friday-Sunday from 11am-1pm. Happy Hour pricing on the weekends, yes you read that right!

The Liberty Distillery is based on relationships and we love to share the magic of distilling spirits. We are often asked the most interesting questions about how spirits are made and sometimes, we too learn something new from a visiting distiller.
Join us for an educational experience. We offer informative guided distillery tours and visits year round to demonstrate how spirits are made. Learn about the equipment and stills, the science and principles behind distillation, fermentation, the 'cuts'; the difference between white and aged whiskey, nosing, and most importantly tasting!
Tastings are complimentary at the end of each Distillery Tour for guests aged 19 and over. Valid ID is required. Minors are welcome on the Distillery Tour if accompanied by the adult.
DISTILLERY TOURS: When not in production, visitors are welcomed onto the distillery floor where they can view our beautiful copper stills up close while our knowledgeable guides explain the processes involved in mashing, fermenting and distilling. Feel the milled grain run through your fingers, nose the various stages of the spirit and enjoy a complementary tasting at the conclusion of the tour.
Saturday-Sunday 11:30am & 1:30pm – $10.00 per person
RESERVATIONS: Tours are limited to 10 persons. Reservations are highly recommended one week in advance. If you arrive at the distillery without a reservation we will try to accommodate as space permits. Please arrive 15 mins in advance to check-in. Contact us at 604-558-1998 to make a reservation and further inquiries.

About the Space
Our Tasting Room and Cocktail Lounge offer the perfect space for all types of special occasions. From intimate cocktail parties, birthdays and anniversaries to annual Christmas parties, our authentic working distillery and warm, inviting lounge have you covered. Ask us about including a guided tour with your package to allow your guests to step on to the distillery floor for an in-depthlook at our operations.
We offer Off-Site Bartending Services, too!
Capacity
The Liberty Distillery is particularly well suited to small or medium gatherings. The most comfortable number of guests is 20 to 35 depending on the type of event.
Distillery Furnishings
3 Large Tables (seat 6-8)
1 Small High Top (seats 2-3)
1 Long High Bar Top (seats 5-6)
18 Short Bar Stools
8 High Bar Stools
Authentic 19th Century Wooden Bar
Included Amenities
Event Planning
Custom Cocktail Menus
Catering Consultation
Drink Tickets
Free Wi-Fi
In-house Sound System
Ample Free Parking (after 7pm)
Licensed from 9am – 11pm
Off-Site Events
Bartending Service
Catering Consultation
Party Planning
Rental Coordination
Customized Menus
Preferred Catering Partners
Railtown Catering
Culinary Capers
Benton Brothers Cheeses
Oyama Sausage Co.