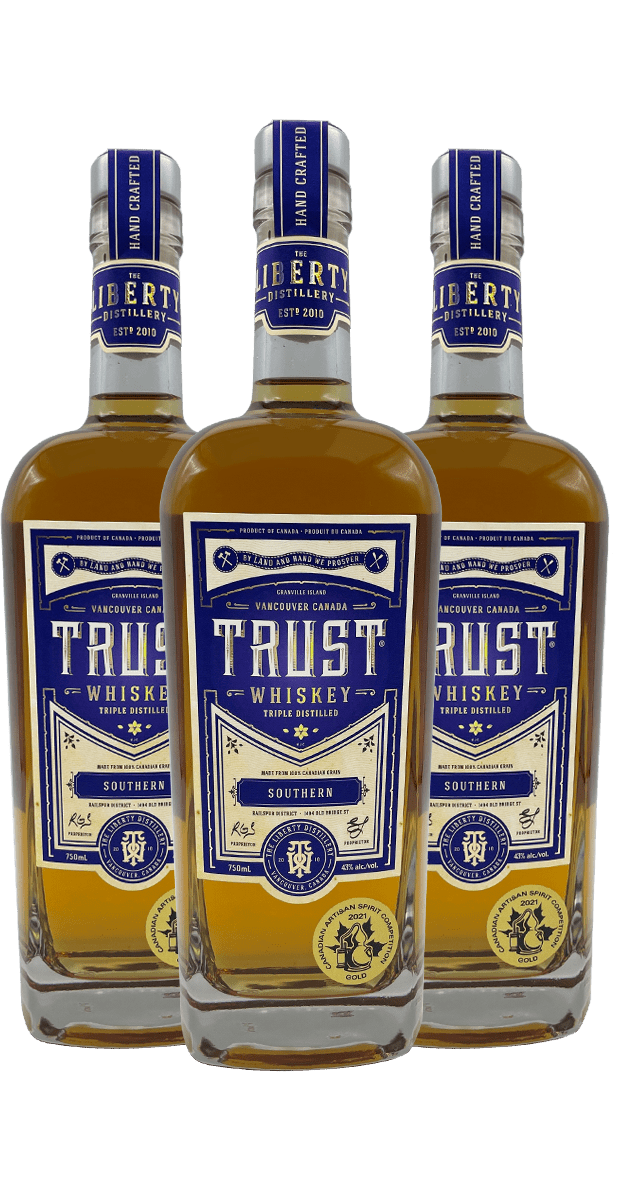 Awards
GOLD WITH DISTINCTION: Canadian Artisan Spirit Competition 2021
SILVER: Canadian Artisan Spirit Competition 2020
BRONZE: Canadian Whisky Awards 2021
BRONZE: San Francisco World Spirits Competition 2020
Description
TRUST Southern begins with 100% organic corn grown in Spallumcheen, British Columbia. It is triple-distilled in our hand-made CARL single copper pot still. For (3) years, it has rested in new American Oak barrels to gain character, complexity and colour. Once extracted from barrel, the corn based whiskey is then blended with Liberty's rye for a final whiskey composition of 75% corn and 25% rye.
In The Bottle:
TRUST Southern presents with a beautiful rich amber tone. On the nose, TRUST Southern offers toasted orange notes. Mandarin orange peel, oak, and textbook 'ripe' peach character are underscored by a layer of warm caramel and vanilla. Rich and well balanced with spice, honey and subtle sweetness. Warm and soothing, with a long lasting finish that just lingers on and on.
TRUST Southern is 100% Craft; a nod to our Southern neighbours who will recognize a true bourbon style. A versatile whiskey; TRUST Southern is perfect for sipping on the rocks,mixing into a traditional cocktail, or creating a twist on a classic. It is the perfect Whiskey to enjoy with friends, or on your own!
Spirit Specifications:
Spirit Type: Whiskey
Ingredient: 75% Organic BC Corn (Spallumcheen Region), 25% Organic BC Rye (Armstrong Region)
Age: (3) Years
Alcohol: 43% alc./vol.
Color: Rich Amber
Bottle Size: 750ml
Price Point: $59.23
SKU: 217743