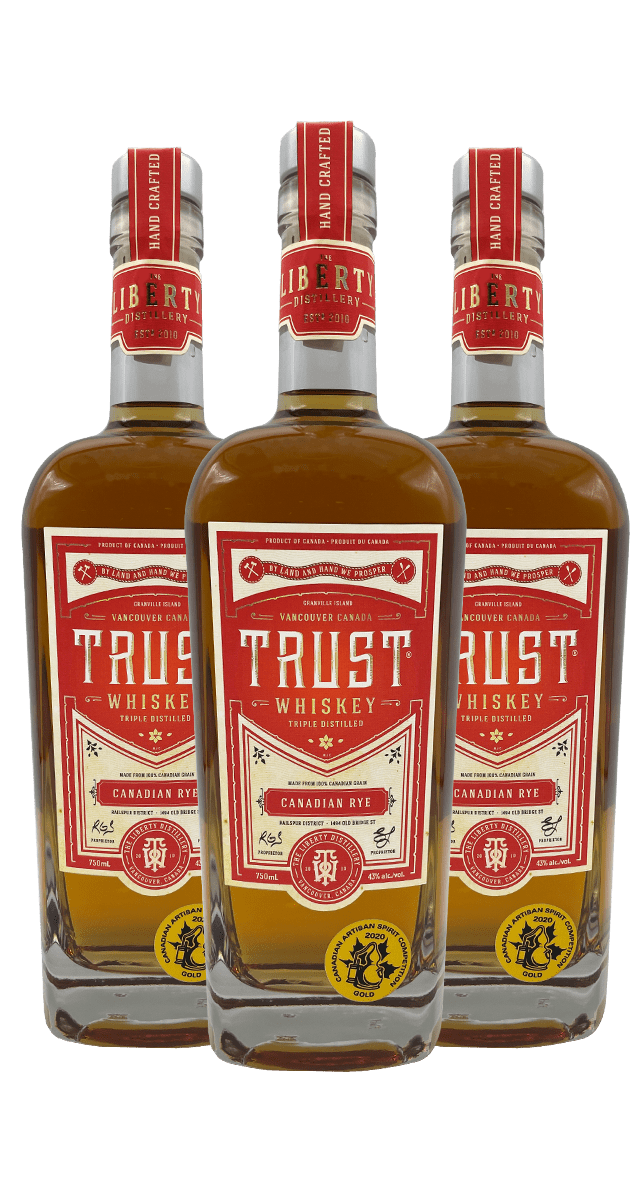 Awards
GOLD w/ DISTINCTION: Canadian Artisan Spirit Competition 2021
GOLD w/ DISTINCTION: Canadian Artisan Spirit Competition 2020
GOLD: Canadian Artisan Spirit Competition 2019
SILVER: San Francisco World Spirit Competition 2019
BRONZE: Canadian Whiskey Awards 2021
Description
TRUST Canadian Rye begins with 100% organic rye grown in Armstrong, British Columbia. It is triple-distilled in our hand-made CARL single copper pot still. For (3) years, it has rested in mature 220-litre red Burgundy barrels to gain character, complexity and colour. It is then transferred to finish in new American Oak barrels.
In The Bottle:
On the nose, TRUST Canadian Rye offers textbook spice that defines 'Classic Rye'. Notes of cinnamon, Mandarin orange peel, baked apple and vanilla all combine to provide the palate with a profound depth of complexity and body. Rich warm tones of honey, allspice, nutmeg and toffee envelop the mouth, with a finish that just lingers on and on.
TRUST Canadian Rye is an unparalleled statement of a 100% True Craft Canadian Rye; reflecting the artisanship between a Master Distiller and local, organic British Columbian grain.
Spirit Specifications:
Spirit Type: Whiskey
Ingredient: 75% Organic BC Rye, 25% Organic BC Barley (Armstrong Region)
Age: (3) Years
Alcohol: 43% alc./vol.
Color: Amber
Bottle Size: 750ml
Price Point: $59.23
SKU: 217740