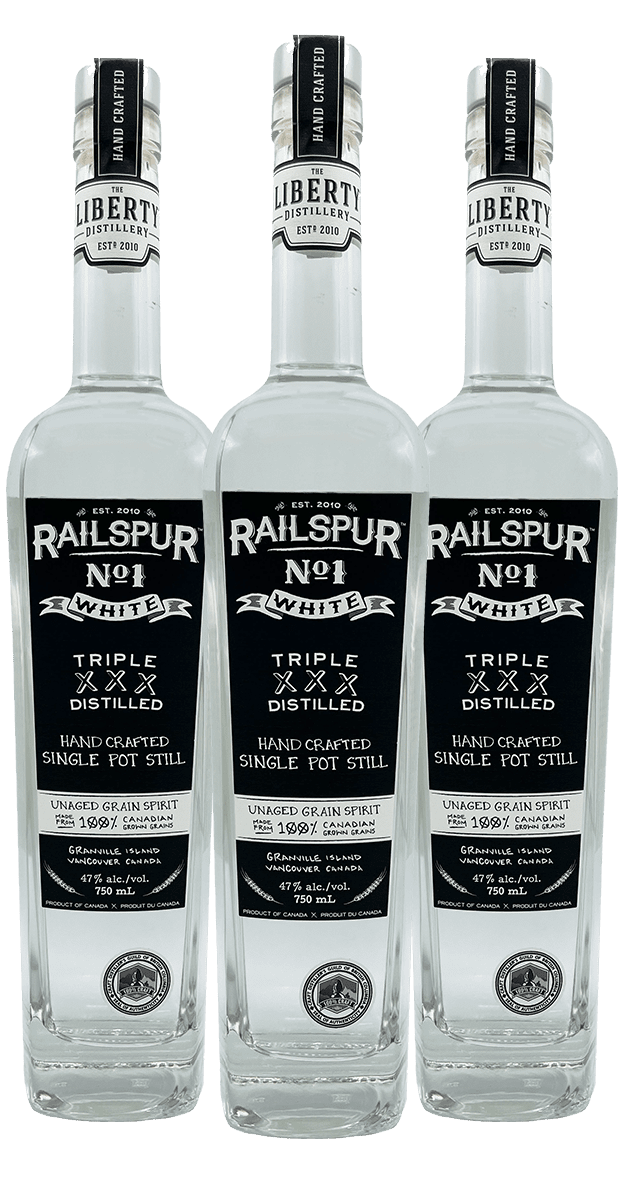 Awards
GOLD W/ DISTINCTION: Canadian Artisan Spirit Competition 2022
BRONZE W/ DISTINCTION: Canadian Artisan Spirit Competition 2021
BRONZE: Canadian Artisan Spirit Competition 2020
Description
Made from 100% BC organic barley, Railspur No. 1 White is our single pot, triple-distilled, unaged barley based grain spirit (aka white "whiskey"). Most white "whiskey" (white lightning, moonshine, white dog) uses a base of corn or sugar, often resulting in what can be perceived as a "rough" tasting spirit. The Liberty Distillery, however, takes pride in creating an artisan spirit that has an amazing 'mix-ability' factor, with a clean and pure finish that is distinct and complex.
Distiller's Tasting Notes off the Barrel (72.4% alc./vol.):
Aromas of butterscotch, cacao bean and caramel punctuate the nose. The finish has a soft, yet dignified, white chocolate character.
In The Bottle:
Clear. It has a complex bouquet of rich barley, bees wax and honeycomb. On the palate it is instantly mouth filling with a full-bodied honey and graham cracker character. At 47%, it has a powerful long finish with warm caramel nuances. It is the perfect base for full-flavoured cocktails and delicious when sipped on its ow
Spirit Specifications:
Spirit Type: White Whiskey
Ingredient: 100% BC Organic Barley (Armstrong Region)
Age: Unaged
Alcohol %: 47% alc./vol.
Colour: Clear
Bottle Sizes: 750ml, 1.75L
Price Point: 750ml – $36.95, 1.75L – $136.25
SKU: 750ml – 631630, 1.75L – 753053