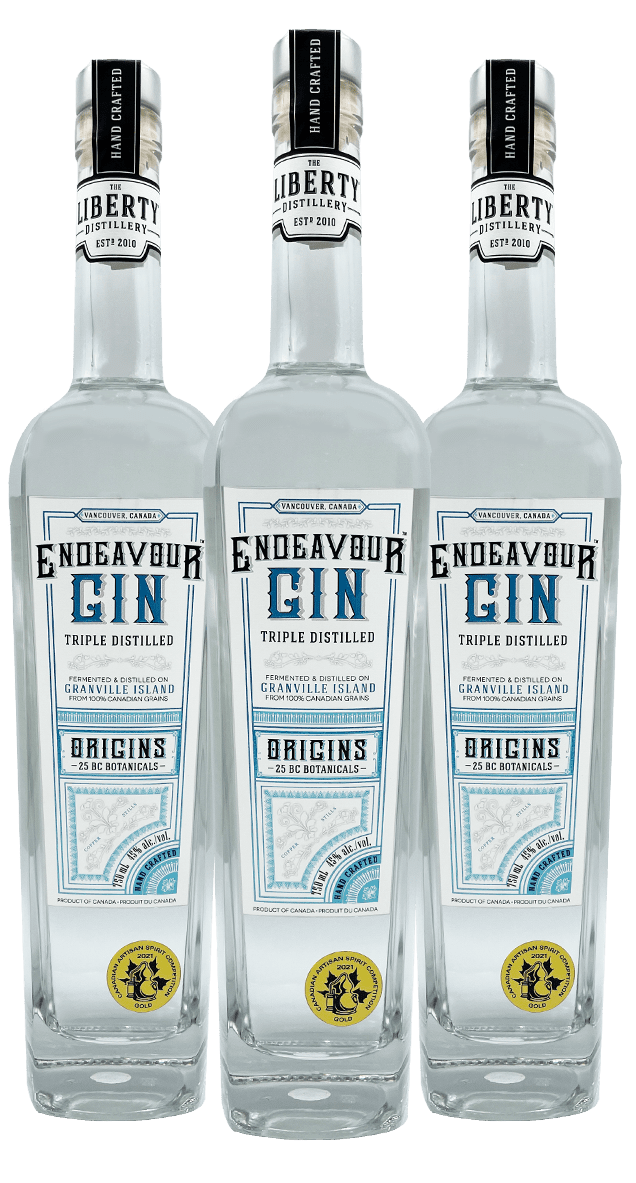 Awards
GOLD w/Distinction (Excellence in Terroir): Canadian Artisan Spirit Competition 2021
GOLD (Excellence in Terroir): Canadian Artisan Spirit Competition 2021
BRONZE: Canadian Artisan Spirit Competition 2019
BRONZE: SIP Northwest 2018
Description
Produced once per year during harvest, Endeavour Origins Gin is The Liberty Distillery's version of a West Coast Traditional Dry Style Gin. The foundation is 100% Organic BC triple-distilled wheat spirit. Using a botanical gin basket, a blend of (25) BC botanicals are then slowly infused during distillation in our single copper pot still. The result is a gin with a polished, long-lasting, and smooth finish; perfect for sipping or creating your own traditional gin cocktail.
Distiller's Tasting Notes off the Barrel (72.4% alc./vol.):
The "Heart" cut begins with a dominant core of juniper and Cypress pine. It evolves to a wild berry character to finish with an elaborate bouquet of coastal aromas.
In The Bottle:
A glimmer of BC in every glass, Endeavour Origins is an interesting journey and exploration through the subtle, delicate but distinctive flavours the West Coast of BC has to offer.
On the nose, Endeavour Origins presents multiple layers of aromas. A compelling gin it is distinctive with bright forest notes underpinned with (10) wild botanicals on a solid BC juniper base.
On the palate, juniper is first detected followed by a delicate interplay of spice and aromatic botanicals providing intrigue and complexity. It finishes with a hint of mint leading to a smooth, seamless and lingering finish. Extremely supple and easy to drink on its own, when blended it creates a fascinating and delicious cocktail.
Spirit Specifications:
Spirit Type: Gin
Ingredient: 100% Organic BC Wheat (Vernon Region)
Botanicals: 25 indigenous botanicals carefully selected and hand-picked from the wild West Coast gardens, meadows, forests and mountains of BC.
Age: Unaged
Alcohol %: 45% alc./vol.
Colour: Clear
Bottle Sizes: 750ml
Price Point: 750ml – $37.78
SKU: 624759